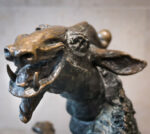 With the latest update to our coding methodology, we are now tracking 30 cases where the trial judge granted the insurer's motion to dismiss but gave the policyholder leave to amend their complaint:
| | | | |
| --- | --- | --- | --- |
|   | Virus exclusion in policy | No virus exclusion in policy | Total |
| Amended complaint filed | 5 | 9 | 14 |
| Appeal filed | 6 | 1 | 7 |
| No further action | 8 | 1 | 9 |
| Total | 19 | 11 | 30 |
As these data show, most plaintiffs whose policies do not have a virus exclusion have elected to file an amended complaint. Those whose policies do have a virus exclusion have been more likely to seek appellate review of the dismissal or abandon the litigation entirely. With such a small dataset, though, it's hard to draw causal inferences from this trend. A few additional notes:
Amended Complaint Filed: Of these fourteen cases, insurers have renewed their motion to dismiss in eleven, one of which – Harvest Moon Distributors LLC v. Southern Owners Insurance Company – was granted (again without prejudice) earlier this month. The policyholders in that case have until March 12 to file a second amended complaint.
Appeal Filed: Because an order dismissing a case without prejudice is not a final judgement, it's usually not appealable under 18 U.S.C. § 1291. We're going to leave them coded as-is for now, but know that in the seven cases where policyholders have appealed these orders, judgement has actually been entered dismissing the cases with prejudice pursuant to Rule 41(a).
No Further Action: When plaintiffs fail to file an amended complaint following dismissal without prejudice, courts will eventually enter judgement on that order and terminate the case, pursuant to Rule 41(b). That has now happened in seven of these nine cases: three with prejudice, and four without prejudice.