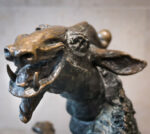 I spoke to Scott Cooper and Jonathan Shub today about their successful effort to consolidate the Pennsylvania state court covid coverage cases brought against Erie Insurance.  They shared their strategies for keeping cases in state court.
First, file cases against an insurer in the state of domicile.  Hence, the consolidated PA cases against Erie.  See also the recent suit filed against FM Global in Rhode Island by the Houston Rockets.
Second, if the policyholder used a broker based in the same state as the policyholder and if there is a basis for alleging a breach of duty by the broker, name the broker as a defendant, so there is no diversity.
Third, file a purely declaratory judgment action in state court.  When the insurer removes to federal court, move to remand on the grounds that (a) jurisdiction over declaratory judgment actions in federal courts is discretionary, (b) the legal questions at issue involve unsettled questions of state law, and (c) the state courts are the best place to answer these questions.  This third strategy has worked for them so far.  See DiAnoia's Eatery v. Motorists Mutual Insurance Company, No. 20-706 (W.D. Pa. May 19, 2020) (remanding a covid coverage matter to state court).